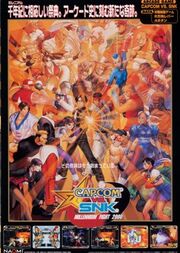 Capcom vs. SNK: Millennium Fight 2000 is a fighting game by Capcom, released in 2000. It is the fourth game in the Versus series. It features characters from both Capcom and SNK games. It was updated with a game entitled Capcom vs. SNK Pro, and was followed by a sequel, Capcom vs. SNK 2. The game featured art by Kinu Nishimura and character art by Shinkiro, just before he left SNK and came to work for Capcom.
* (Pro Edition only) ** (secret character)
Capcom vs. SNK utilizes a "ratio" system, in that the "ratio" is a rating of a character's overall strength, ranging from 1 to 4. Teams of up to four can be assembled, but their combined ratios must equal and go no higher than 4. The gameplay uses the SNK-style four-button format. The player also has their choice of "groove", or attack meter. The SNK-Groove is based on Extra mode from The King of Fighters '94 to 98, while Capcom-Groove is based on the gameplay system from Street Fighter Alpha.
Merchandise and Advertisements
Edit